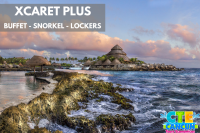 Departure
Cancún a Playa del Carmen
Cost Adults
135.99 USD
169.99 USD
Cost children
67.99 USD
84.99 USD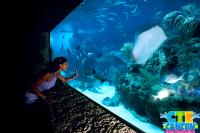 Departure
Mexicanos de Cancún a Playa del Carmen
Cost Adults
130.05 USD
153.00 USD
Cost children
64.60 USD
76.00 USD
Description
There are tons of things to do and see on a tour to Xcaret , from swimming in an underground river to attending an impressive display of dances, music and folk costumes from every corner of the country in the show "Xcaret México Espectacular".

Other activities that the Xcaret Park offers its visitors include the opportunity to visit a first-rate aquarium, as well as an amazing butterfly garden. Travelers in Xcaret will also be able to tour the detailed replicas of a Mayan village, a Mexican cemetery, and a colonial hacienda. There is even a nice beach where you can take a refreshing dip in Xcaret Park !

To complete your view of the park you have to attend "Xcaret México Espectacular" at night, a show that contains live presentations of the various pre-Hispanic ball games, as well as a group of professional dancers and musicians, who create a 100% atmosphere Mexican.
The tour includes:
Round transportation Hotel (or meeting point) - Xcaret - Hotel (or meeting point)
Entrance to Xcaret
I swim in the underground river
Shows, exhibitions, cultural activities
Access to beaches, bays and natural pools
Life jacket, life wheels, lounge chairs, hammocks and rest areas
Safety bag for the trip on the river (parcels during the activity)
Bathrooms, dressing rooms, showers
Use of lockers and / or snorkeling equipment
Entrance to the show "Xcaret México Espectacular", a musical journey through the History and regions of Mexico
Does not include:
Additional activities in Xcaret
Meals, snacks or drinks during round trip or Xcaret transportation
Souvenirs, crafts, clothing, or any other product or service not mentioned (see list of what is included in the tour)
Photo or video services
Tips
Any other service or product not mentioned in the included list
Additional Information / Recommendations:
Your pick-up schedule and more details regarding the transportation service will be sent via mail at the conclusion of your reservation.
Children from 0 to 4 years old are free
The paid service when boarding is available in Cancun and downtown Playa del Carmen
Children from 5 to 11 years pay lower rate
Transportation may vary depending on the starting point (can be bus or other)
For hotels in downtown Cancun, transportation will be given in the morning from your hotel to the meeting point.
The return for the hotels of the center would be in the pastry shop of Malecon Americas: https://goo.gl/maps/ZBsKFNirTcq
Hotels in the hotel zone returns are in most hotels, check with your representative if we have the return at your hotel
All reservations in payment when boarding will be made in American Dollars and will be paid in USD or in MEXICAN PESOS
The payment when boarding only applies to make the excursion 60 days after the day you enter the reservation if your reservation is for later days, contact a representative.
Booking with payment when boarding, the transfer may take longer than normal.
Suggestions:
Wear comfortable clothing, swimming shoes and a swimsuit
Bring an additional change of clothes
The sunscreen you use in the park must be 100% biodegradable. If your protector contains one of the following ingredients, you must leave it at the entrance: octocrylene, benzophenone, butyl methoxydibenzoylmethane, hexilodecanol, resigned oppressed, cetyl dimethicone, methylparaben, polyethylene, propylparaben, butylcarbamate (there is a blocker that meets these characteristics for sale in the Park)
Bring with you cash and a debit or credit card for unforeseen expenses, in case you need to leave a deposit for the use of any equipment, or to pay for products or services not included in your package
If you have any health problem or physical disability, please contact us before making your reservation, so we can advise you on it